Recently, a woman from Houston, Texas was walking home from work when she came across something heartbreaking. Two stray dogs had taken up residence among garbage and old mattresses.
The Good Samaritan immediately alerted local rescue for help, but when they arrived there were many more dogs than they had expected.
"We quickly managed to trap the mother dog, and we also trapped a young female dog that we think is her daughter from her previous litter."
But upon closer inspection, Lopez quickly realized mom and baby weren't the only puppies in need. It was a whole family: Mum, dad, three daughters and grandmother were all waiting for help.
"We managed to chase Granny, and then she got tired of running and gave up," Lopez said. "She didn't fight because she was exhausted".
The rescue team spent all day trying to recover half of the family of dogs and eventually set traps for the night. Monday morning, everything seemed to be better.
"I went to check the traps at 5 a.m. and luckily the dad and pup were safely trapped," Lopez said.
But there was still one last dog – the youngest of the girls – to save, so Lopez left a trap behind while getting the rest of the family to safety.
You can watch the rescue here:
@houston_dog_rescue Welcome "Chance" he has a long road to recovery ❤️‍🩹 The suffering will never end in TX until a spay and neuter law is passed in our state. #houstonwehaveaproblem #dog #rescue #stop #sufferingsilently #houstondogrescue ♬ Rescue – Lauren Daigle
"I left the area to reunite the pup with his mom and dad with the rest of the family," Lopez said. "Later in the day we went back to check the trap and finally trapped the last dog, the young girl. We gathered the whole family in our detention center."
Now that everyone had a warm place to sleep and a good meal in their bellies, their true selves emerged.
"The mum of 2 – now called Naomi – was very sweet and confident," Lopez said. "The 8 month old puppy girls were shy and scared but now they are warming up to us. They seem to be very sweet girls. The 2 month old baby pup – named Abigail – used to be shy and scared but now he is warming up to us and very playful."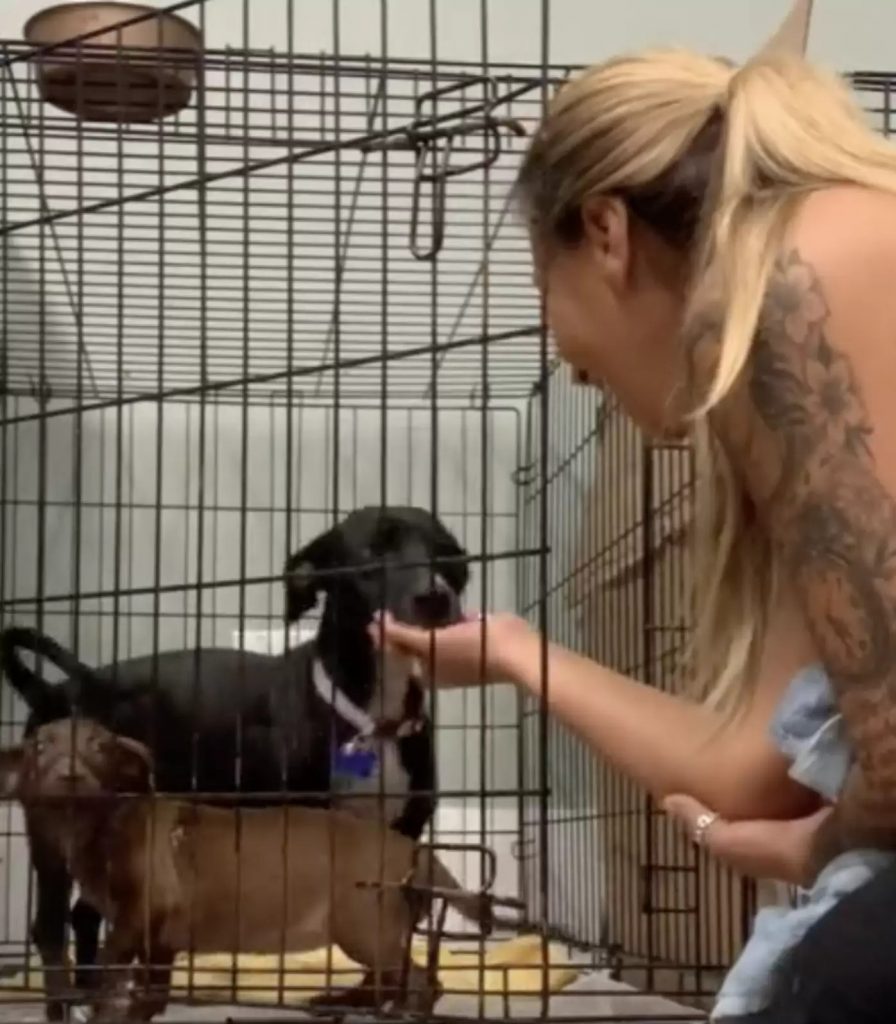 The dog dad – now named Thomas – is still shy and scared and behaves much better when his canine family is with him. He is also 2 years old, while Granny, 10, loves everyone and loves taking long walks.
Although the two youngest daughters, Shannon and Christel, are currently staying in a shelter with Grandma, the rest of the family has been placed in foster care until they find a permanent home.
Despite everything this sweet family has been through, they have held on together. That is love.