It becomes harder for older dogs to stay energetic and visit their favorite places. Cocoa was a 16 year old dog who loved hanging out with his family. But with his age, it became more difficult to stay active.
However, this lovely family hasn't given up on Cocoa's favorite spots.
Tom and his wife made a mobile bed for their dog so she doesn't have to travel long distances. As Tom says, they had a bed and a rope, so nothing stopped them from building a mechanical bed.
This story went viral after a woman spotted the family on the beach. She could see the peace and happiness in Cocoa's eyes. The woman therefore photographed the resting dog and posted the photo on social media.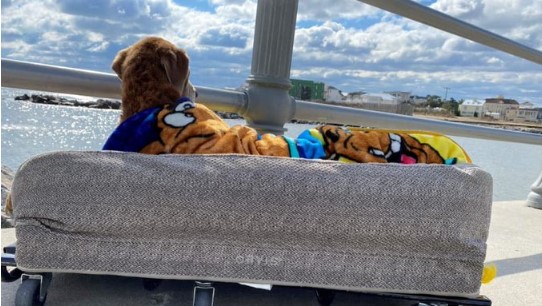 The post gained popularity and was shared around 55,000 times! Everyone praised the family for the care and love they showed in letting the dog spend the last years of her life at home.
Unfortunately, Cocoa passed away recently. It's so good to know that before she died, she was able to fully enjoy her life.
Thanks to these people, one more dog had a peaceful and happy life!